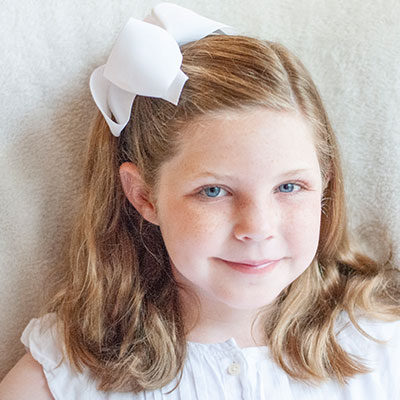 Grace Hamilton, Monroe Carell Jr. Children's Hospital at Vanderbilt Ambassador
ABOUT ME
Grace is a 12-year-old cancer survivor who delights in giving back to the hospital that helped save her life.
When Grace was 2 years old, she was diagnosed with high-risk acute lymphoblastic leukemia. At just 5 years old, she completed chemotherapy treatments at Monroe Carell Jr. Children's Hospital at Vanderbilt, and she remains in remission today.
Grace has been through a great deal in her young life, but nothing can hold down her determined, bright spirit. As a young patient, she spent over 50 nights in the hospital, receiving thousands of chemotherapy doses, more than 20 spinal taps, 16 blood transfusions and five platelet infusions.
Grace continues to think of the sixth floor of Children's Hospital as a second home, and she has a special place in her heart for those going through what she went through. She loves taking gifts and supplies to the nurses there and the children who are still facing what she calls a "crazy adventure." She prays for the children fighting cancer daily, and each year for her birthday, she asks for donations to childhood cancer initiatives in lieu of gifts.
Grace loves musical theater and volleyball and wants to be a pediatric music therapist when she grows up.
---