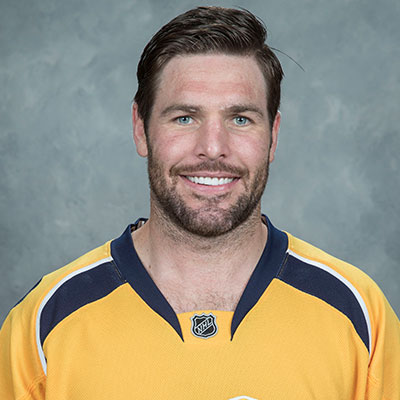 ABOUT ME
A veteran of 17 NHL seasons and more than 1,000 games, Mike Fisher's class, work ethic, and commitment to his family, his faith and the community has made him the gold standard for professional athletes in the 21st century.
Fisher exemplifies what most can only hope to achieve in one's lifetime – this goes far beyond his successful NHL career on the ice. He started his outreach early in his career with the Ottawa Senators, where he served as honorary chairperson of Roger's House – a collaboration between the team's foundation and the Children's Hospital of Eastern Ontario to honor the late Roger Neilson and provide a home-like environment and access to a pediatric palliative care for children and youth – as well as establishing the Mike Fisher Foundation and Charity Hockey School, which he established in 2008 to teach hockey, life skills, and raise funds for several Ottawa-area children's charities. He also started his work with Hockey Ministries International which continues today.
Upon his trade to the Nashville Predators in February 2011, Fisher immediately entrenched himself in the Nashville community, and was honored for his tireless dedication when he was honored as the 2012 NHL Foundation Award winner, which recognizes an NHL player who applies the core values of hockey – commitment, perseverance and teamwork – to enrich the lives of people in his community, just 16 months later. His faith is the largest driving force behind who he is and how he operates, and what fans see publicly with his community service only scratches the surface of his work, because he chooses to do so much anonymously. Although Mike prefers to perform community service without fanfare, he does understand the importance of getting the word out about the organizations he supports so others may join in on his efforts.
In September 2011, Fisher published his first book, Defender of Faith: The Mike Fisher Story. It is geared toward 9-11 year-olds, highlights his faith journey, and proceeds from the book benefit World Vision, an Evangelical Christian humanitarian aid, development and advocacy organization. He has a strong relationship with Room In the Inn, a full-service facility serving homeless men living in Nashville, as well as Cottage Cove Urban Ministries, a Nashville based non-profit organization that serves inner-city youth. Other organizations he works closely with include Rocketown, a faith-based youth outreach facility in the heart of Downtown Nashville, and the I am Second campaign, which is a movement meant to inspire people of all kinds to live for God and for others.
Most recently, Fisher was named the board of directors at Danita's Children, a non-profit organization that rescues, loves and cares for orphaned and impoverished children in Haiti. He has also recently served as a spokesperson for the MEND organization, an innovative, primary prevention initiative dedicated to ending violence against women and girls by engaging and educating men and boys.
A native of Peterborough, Ontario, Fisher retired from the NHL following the 2016-17, one in which he led the Nashville Predators to their first-ever trip to the Stanley Cup Final in his one and only season as team captain. During his 17 seasons, he amassed 585 points in 1,088 regular-season games and 51 more in 134 postseason contests. He helped Ottawa reach the 2007 Stanley Cup Final and earned silver medals with Canada at the 2005 and 2009 World Championships. In 2006, he was a finalist for the Selke Trophy as the NHL's top defensive forward, was the Predators' nominee for the King Clancy Award – which is awarded annually to the NHLers who best exemplifies leadership qualities on and off the ice and who has made a significant humanitarian contribution to his community – in five of his six full seasons with the club – and was Ottawa's nominee for the 2004 Masterton Memorial Trophy – given annually for perseverance, sportsmanship and dedication to the sport. He became the 300th player in NHL history to play in his 1,000th career game on March 3, 2016 vs. New Jersey, and six months later on Sept. 8, he received the honor of being named the sixth captain in Nashville Predators history after serving seven consecutive seasons as an alternate captain and member of the team's leadership group for both the Senators and Predators.
And while his list of professional accomplishments is lengthy, nothing compares to becoming a father, which Mike did when he and his wife, Carrie, did when they welcomed Isaiah Michael Fisher into the world on Feb. 27, 2015.
When he isn't at the rink or in the community, Fisher loves the outdoors – he is an avid fisherman, hunter and enjoys golfing.
---